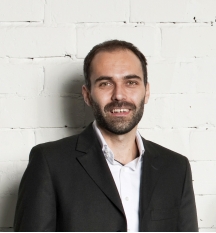 Andrea Destefanis
Founder and Chief Architect, Kokaistudios
Master Degree in Architecture at Architecture University
Institute of Venice IUAV, Venice, Italy
Born in Turin, Italy from a family of Theater artists, Andrea Destefanis developed very early a strong interest for visual arts and scenography. Growing up in a refined cultural environment he moved to live in Venice where completing his education at University of Architecture of Venice he started to cooperate with several architectural firms and developed award winning projects in architecture and city planning. Moved by his personal interest in different fields of design he founded a cooperative studio focused on research of innovative instrument of design in computer graphics. In 2000 he met with Filippo Gabbiani with whom he shares the same architectural vision, interest in heritage renovation and environmental design, and they started a deep cooperation with resulted in the founding of Kokaistudios. Since the establishment of kokaistudios in 2002 in Shanghai, Andrea has resided full time in Shanghai where he jointly oversees Kokaistudios and focuses also on researching and promoting sustainable instruments of development for social and urban environment.
HONORS

2014
- Lectured to Marster Class Distinguished Lecture Series in Hong Kong University

2013
- Best of Year Merit Awards by Interior Design magazine for K11 Art Mall Shanghai in Green catagory and Champagne Etc Hong Kong in Food/Drinks Retail catagory
- Received Perspective Awards for Jiaoong University of Law in Best Institutional/Public
Space category
- K11 Art Mall Shanghai Received ASIA PROPERTY AWARD
- Lectured at Anti Tectonics of Beijing Design Week
- Lectured at Architecture & City Planning EMBA, Sino-Italian Campus Tongji University, Shanghai
- Kokaistudios listed in the inaugura AD 100 China by AD Magazine China Edition
- Y2C2 Received highest readers' vote for Best Chinese Fine Dining Awards from That's Shanghai.

2012
- Awarded Best New Wine Concept of TimeOut Hong Kong's 2012 Food & Drink Awards for ETC Wne Shops
- Honored two MIPIM Asia Awards 2012; Silver in Best Retail Expansion for Vacheron Constantin and Bronze in Best Chinese Futura Projects for Tsinghua University Law Library
- Awarded City Weekend Readers' Choice Awards 2012 Dining and Nightlife Catatory for Yu Bar at Marriott Shanghai.
- Hosted a lecture of 'Shanghai State of Affaris' program at Hong Kong University Shanghai Study Center.
- 100% Design Shanghai Advisory Panel Committee and Forum Speakr
- 100% Design Singapore Forum Speaker
2011
- BEST RETAIL INTERIOR Award of MIPIM Asia Awards 2011 for Miele House project
- BEST RETAIL INTERIOR of International Property Awards 2011 for Vacheron Constantin Mansion Project
- 100% Design Shanghai Advisory Panel Committee
2010
- CERTIFICATE OF EXCELLENCE of Perspective Award 2010 for Vacheron Constantin Mansion project
- Gold Award of 2010 China's Most Successful Design Awards for Huai Hai Lu 796 project in Shanghai
- Nomination Award of Commercial Space in IAI Award 2010 for Vacheron Constantin Mansion project
- BEST CHINESE PROJECT and MIXED-USE BUILDING Awards in MIPIM ASIA AWARDS 2010 for Park 33 - Wai Tai Yuan Project
- 100% Design Shanghai Advisory Panel Committee
2009
- Award of Merit by UNESCO in the 2009 Asia Pacific Heritage Awards for Culture Heritage Conservation for Huai Hai Lu 796, Shanghai Renovation Project
- Awarded 'The Best Bar' of 2009 Time Out Best Bars of Shanghai Awards for Sin Lounge Bar and Bar Rouge
- Awarded 'Special Jury Prize' of 2009 Time Out Best Bars of Shanghai Awards for Lounge 18
- Awarded 'Editor's Pick' of City Weekend Readers' Choice Awards 2009s for Bar Rouge
- Awarded 'Best New Club' of City Weekend Readers' Choice Awards 2009s for Sin Lounge Bar

2008
- Honored Member of Hall of Fame China by 《Interior Design》Magazine
- Asia Pacific Interior Design Biennial Awards (IAIC) 2008- Bronze Prize of Institute Category for Confucius Institute project in Beijing

2007
- 40 under 40 Perspective HK Award

2006
- Award of distinction by UNESCO in the 2006 Asia Pacific Heritage Awards for Culture Heritage Conservation programme for Bund18 renovation project
COMPETITION AWARDS
2013
Ningbo Library Design(Ningbo, China)
Architectural Design International Competition 2nd Place
2012
Tsinghua University Law School Building(Beijing, China)
Architectural Design International Competition First Prize
Banknote Printing and Minting (Guangzhou, China)
Architectural Design International Competition Finalist
2011
Law Faculty in Tsinghua University (Beijing, China)
Architectural Design International Competition
Le Meridien Shenyang HePing Hotel Project (Shenyang, China)
Interior Design International Competition First Prize
2009
No.33 Wai Tan Yuan (Original British Consulate), Shanghai, China
Interior Design International Competition, First Prize
2008
The 3rd Architectural Biennial Beijing 2008
International competition for Planning and Design of D-Park751
2007
Confucius Institute Word Headquarter, Beijing, China
International Competition, First Prize
2006
- Sinopec Hotel Tower Urumqi, Urumqi, China
International Competition, First Prize
- Virgin Mobile, Shanghai, China
International Competition, First Prize
- Galaxy Casino, Macau, China
International Competition, First Prize
2005
Yangquan Culture Center, Yangquan, China
International Competition, First Prize
EXHIBITIONS
2013
Projects showcased at Erasmus Effect Exhibition in MAXXI; Italy's National Museum of 21
Century Arts in Rome
2006
The Rebirth of Bund18, Bund18 Creative Center, Shanghai (PRC)
2004
Bund18, Chengdu Art, Chengdu (PRC)